Hello and welcome from Shout Ministries, Inc. I'm Captain Cool, Captain of the Lord's Army.  The Army of God is one that changes the world because kids and adults will learn to DO the Word of God.  As Elvis Presley says in one of his songs:  "A little less conversation and a little more action, please."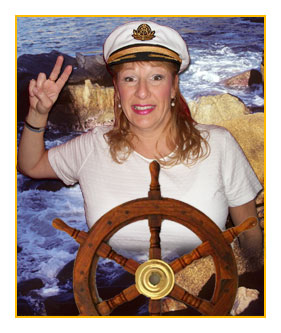 I think that's what God is looking for too. Personally, I like to spell Shout (S.H.OUT) because it stands for
Souls Hollering Out.
Although Shout Ministries is a fairly young ministry, I believe that it will fulfill the full purposes for which God has called me and that is to preach the Good News to the nations and show God's Love to every tribe and nation, this generation, thus changing the world for the Glory of God. Shout Ministries is a children's ministry, but all God's people are His children.  So young or old or in-between, I hope to have many opportunities to share fun, exciting ways of teaching the life-changing message of the Good News with you.  My personal testimony is an incredible story of just how Jesus Christ redeemed me and is using me, just like he wants to use you. I invite you to email me with any questions or opportunities to speak in your area.  May God bless you as you grow in the knowledge of who He is.
CAPTAIN   COOL   POEM     Written 6/4/09
I AM CAPTAIN OF THE LORD'S ARMY
I STRIVE TO HELP YOU SEE
THAT JESUS IS THE WAY OF LIFE
SO YOU CAN BE FREE
I SAIL A SHIP ON THE OCEAN BLUE
TO TELL OF GOD'S LOVEJUST FOR YOU
I SCAN THE HORIZON TO AND FRO
TO TELL PEOPLE WHICH WAY TO GO
THE BIBLE IS MY MAP TO STAY ON COURSE
JESUS IS MY ONLY SOURCE
HE LOVES IT WHEN YOU PRAY AND PRAISE
CALL ON THE NAME OF JESUS TO BE SAVED
ANSWER THE CALL     BECAUSE JESUS
IS LORD OF ALL !